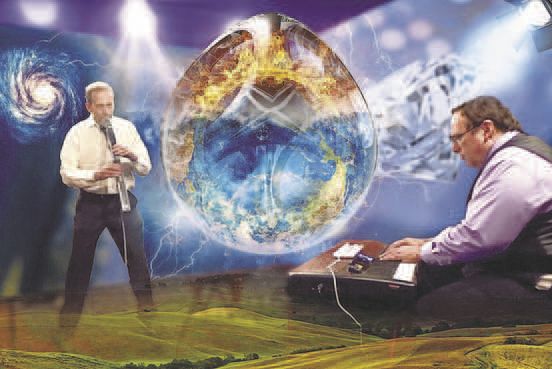 Stuart Diamond and Don Slepian will bring the music of Electric Diamond
to the Paul Robeson Center for the Arts on July 30.
Musical pioneers in Princeton: Electric Diamond will bring its sound to the Robeson Center
By Anthony Stoeckert
Don Slepian and Stuart Diamond have been part of the electronic music scene since the very beginning.


"I hate to put it this way, but Don and I are some of the golden oldies of electronic music," Mr. Diamond said. "Both of us were creating our own ensembles and performing live back in the 1970s. Now we can look back and say, 'We really were the first people doing this.'"


Mr. Diamond has performed at such venues as the Guggenheim Museum, Carnegie Recital Hall, and Federal Hall. He's also performed during Macy's Fourth of July fireworks show. As a composer of electronic and contemporary classical music, he has been praised in "The New York Times," "Variety," and "The Christian Science Monitor."


Mr. Slepian's start with electronic music dates back to the '60s, when his father worked as a scientist for Bell Laboratories, the science and engineering research center in Holmdel. One day, Mr. Slepian's father brought home a record called "Music From Mathematics." The record featured music composed by mathematics and created via computers using punch cards. Some of the music resembles sound effects heard on '80s-era video games.


"I fell in love with it and played it endlessly and decided that's what I wanted to do with my life," Mr. Slepian said.


He started by designing electronic instruments, and helped build the first Bell Labs analog synthesizer in 1971. He also taught electronic music and computer programming at the University in Hawaii.


He also was a synthesizer soloist with the Honolulu Symphony and has performed in New York, Paris, Japan and Thailand. As a composer, Mr. Slepian was the artist in residence in the Acoustics & Behavioral Research Center at Bell Telephones Laboratories. His works "Sea of Bliss" and "Sonic Perfume" have been heard through the National Public Radio show, "Music From The Hearts of Space."
Mr. Diamond played bassoon before he started playing the Lyricon, an electronic wind instrument.


"I never played bassoon again... I like to say that overnight I went from being a semi-professional bassoonist, to the world's greatest classical Lyricon player, albeit the world's only classical Lyricon player," Mr. Diamond says.


More seriously, he said he and Mr. Slepian created a demand for electronic music. Since the 1980s, the two musicians have been performing together in the group Electric Diamond, which will perform a free concert at the Arts Council of Princeton's Paul Robeson Center, July 30, beginning at 2 p.m. The concert will feature a video element by Brian Van Korn, and Mr. Diamond and Mr. Slepian will be joined by Theremin player Kip Rosser for the latter part of the concert.
"We really are a one-of-a-kind scenario," Mr. Diamond said. "Half the concert is classical based, the other half we do improvisations. We go on journeys that can take us anywhere. Here is a typical example. We will take music from the Middle Ages. We'll take the actual melodies that were written more than 1,000 years ago and we will do our own dance suite based on those melodies. So it's medieval, but we're now in the 21st century, playing it on electronic instruments."
Mr. Diamond says that in the 1970s, electronic music was divided into two areas — rock 'n' roll, which was loud and big, and in academia, which he described as post-modern.
In the academic world, he sound was often atonal, unmelodic music that you might associate with a monster movie or science fiction thing< It wasn't music one would listen to for pleasure," Mr. Diamond said. "We tried created a world where we focused on expressivity. In other words, just how beautiful can we make our instruments sound. We focused on dynamic range, which meant not only how loud we can play, but also how soft we can play. So in contrast to the rock and popular music world, we have this huge dynamic range not limited to one volume level."
Mr. Slepian and Mr. Diamond met in the 1980s, and began collaborating.


"As they say, a match was made in heaven," Mr. Diamond said. "This was in the 1980s, and we found a great synergy. Don was a master keyboardist."


"I met Stuart and we both had a great interest in doing live electronic music performance," Mr. Slepian said. "We did a number of shows together in the 1980s and '90s, and we've been playing together for 35 years, as far as Electric Diamond goes, we mix classical music with original music. We've played together long enough so that we really know each other's styles. I come from more of a scientific background and Stuart comes from an academic background."


Mr. Slepian said electric instruments give him and Mr. Diamond the ability to do things they couldn't with traditional instruments.


"I could be a pianist and Stuart could be a bassoonist, but to me it would feel like wearing a straitjacket," he said. "We'd be walking within the confines of our instruments; it would be exceedingly difficult to do anything truly new or different... We've always worked with electronics and computers, and our interest is in taking the past and taking the present, which are these new technologies, and really making something of them."


The Paul Robeson Center is located at 102 Witherspoon St., Princeton. For more information, go toartscouncilofprinceton.org or call 609-924-8777.