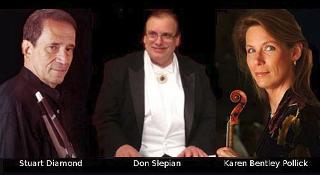 ELECTRIC DIAMOND at The ArtMusicCoffeeHouse
By Howard Moscowitz
Last night, in a small living room in suburban New Jersey, I and seven other invited guests were held spellbound by the three very talented musicians that comprise the group called Electric Diamond. We were joined by possibly hundreds of people throughout the world who enjoyed the concert on a live internet webcast from The ArtMusic Coffeehouse. This was chamber music at its finest, firmly rooted in the past while defining the future, both musically and technically.
The ArtMusic Coffeehouse is a new epicenter for up-and-coming talent. Hosted by Don Slepian, each show (Wednesday evenings, 9PM thru 11PM Eastern US Time) features performances and interviews with talented folk, blues, jazz, classical and world music artists. Set before a modest live audience, the concert begins with Don Slepian's keyboard improvisations. It continues to move between interview and live performance, revealing the thoughts and musical personality of the evening's featured artist. Through webcasting, it can be heard virtually anywhere. This is exciting, like live radio used to be.
Don Slepian started the concert with an extended keyboard improvisation. I had never heard Don play before, and I was profoundly impressed. He's a masterful performer comfortable in virtually any style. He moves effortlessly and gracefully from mood to mood and from style to style, in a very personal and intimate manner. He changes the sounds on his Yamaha keyboard without pausing; using strings, percussion, piano, harpsichord, harp, banjo and many others, in virtually any combination. The music flows continuously, sometimes sounding like Chopin, Mozart, Bach, Beethoven, Shostakovich, Joplin, The Beatles, Fats Waller, Elton John, many others, and in his own unique styles; not necessarily in that order.
Next, Karen Bentley - Violin and Viola, and Stuart Diamond - Lyricon, joined Don as Electric Diamond. This is a group of musician's musicians, classically trained and masters of all styles. Don and Stuart, both electronic music pioneers, have been playing together for nearly thirty years. Stuart is a composer as well as a Bassoonist. Last night he played the Lyricon, a vintage electronic wind synthesizer and quite rare. It looks like a silver Clarinet or soprano Saxophone, with no bell and a wire coming out of the bottom. It controls a vintage Oberheim monophonic synthesizer. It has an expressive range that is marvelous, comparable to any classical orchestral instrument. It has a dynamic range of about 100 dB and can play virtually any pitch to excite both subwoofer and tweeter. Stuart uses the Lyricon to great effect. He is a master of phrasing, certainly something very rare for a player of an electronic
instrument.
Karen, who joined them a few years ago, is a virtuoso violin soloist who has performed concerti with some of the world's great symphony orchestras. She is also a member of a Progressive Rock band, as well several other Jazz, New Age, and New Music ensembles. Not only does she have flawless technique, but a marvelous ear. It was thrilling to hear such an outstanding musician improvising so expressively.
Electric Diamond started their set with a beautiful piece based on 15th century secular medieval melodies. I found this fascinating because it was at once both ancient and contemporary. The group played together as if they were of one mind. Modal melodies and phrases were passed from one instrument to another twisted and intertwined, each time modified and harmonized in new ways. As Stuart pointed out in a discussion during the concert, this form of improvisation was the norm in the 15th century. Electric Diamond was so accomplished at this that one could have thought they were performing a composition of Josquin des Pres, or one of his contemporaries, from memory.
As the evening progressed, Electric Diamond played in many differing styles including, but not limited to, classical, romantic, jazz, blues, avant-garde, Latin, and native American; in many combinations. They even played a J. S. Bach Ave Maria (actually Prelude No. 1 in C Major) and a Purcell trumpet voluntary; Stuart's Lyricon sounded more like a piccolo trumpet than a piccolo trumpet. I was delighted.
As I sat listening, only a few feet from the players, it occurred to me that this was chamber music much like it was in Mozart's time. These musicians were at once reviving the art of classical improvisation and creating new music. With the webcasting, it is possible that people all over the planet were sharing this experience in their own homes; talk about the global village.
The format of the ArtMusic Coffeehouse appropriately provided the performers the opportunity to talk about their music and themselves. This certainly enhanced the concert. The "show" lasts two continuous hours, and I think that's too long without a break, both for the audience and the performers.
It's great to review a venue which is available to everyone on the internet. I urge you to listen in to future ArtMusic Coffeehouse concerts, and comment on them at the electro-music.com forum. Don offered to get us a few audio clips of last night's concert, which we'll post as soon as we can. Below are come links to web sites of the artists.