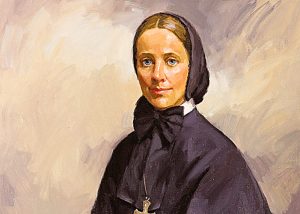 The concert, held at the Saint Frances Xavier Cabrini Shrine, is inspired by the saint.

The Show at the Shrine
Story by Sherry Mazzocchi
Frances Xavier Cabrini is the patron saint of immigrants.
But she wasn't exactly welcomed at her 1880 arrival in New York. She and a coterie of sisters from Northern Italy found their living arrangements nonexistent.
Even Archbishop Michael Corrigan encouraged them to leave.
But Mother Cabrini refused. She demanded the church find them a home. Then she started an orphanage. At the time of her death 35 years later, she'd founded more than 65 schools, hospitals, and institutions dedicated to serving the indigent all over the U.S.
"She must have been an incredible dynamo to do that," said Stuart Diamond. "She is a very relevant patron saint for today."
Diamond is the founding member of Electric Diamond, an electro-acoustic music ensemble. The group's November 4th concert, held at the Saint Frances Xavier Cabrini Shrine, is inspired by the saint.
Cabrini was canonized in 1946 by Pope Pius XII and became the first American saint. Part of her remains are at the Fort Washington shrine, were pilgrims pay homage and pray.
The ensemble features Diamond on the electronic wind instrument, Don Slepian on keyboards, and guest artists Karen Bentley Pollick (Paul Dresher's Electro Acoustic Ensemble) on violin and Ruth Cunningham (Anonymous 4) as vocalist.
The ensemble created set pieces from her own words. "Her writings are used as a musical motif," said Diamond. "They are the medium for musical improvisation."
They incorporated hymns and songs from Early Music, including Lament to Tristan. "That is one of the hit songs from the Early Middle Ages," said Diamond.
The concert also features a piece in the Micmac Native American language, with music transcribed by a French priest in 1792. Diamond said the priest put the music into a western scale with in four-part harmony. "This is probably not what those Native Americans actually sang," he said. "All of the actual notes and pitches would be different."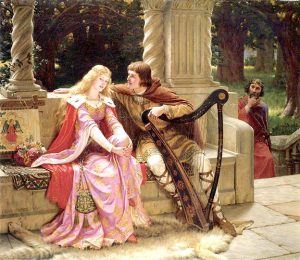 The concert will feature Early Music
works such as Lament to Tristan.

The music is a companion piece to the Cabrini-inspired music because it's about people forced off of their land. "They are refugees here on their own continent," said Diamond.
The concert doesn't aim to illustrate history in a linear way, but uses Christian and Native American iconography to tell spiritual stories with interesting electronic music and otherworldly harmonies.
"We are doing a concert in a shrine," said Diamond, "so this will be a very meditative, spiritual concert."