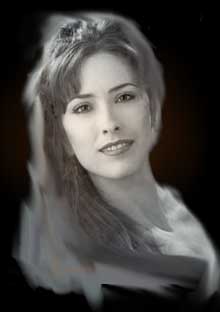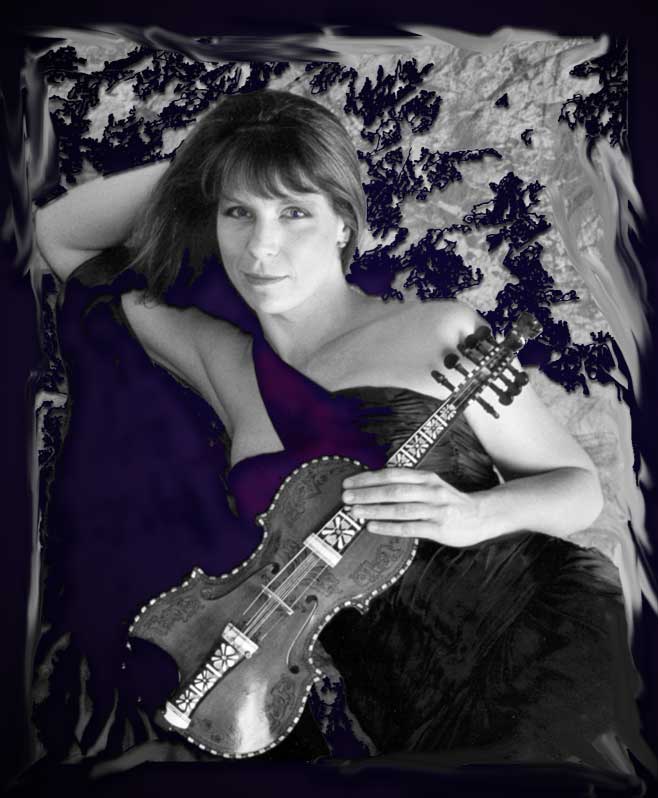 Engineered and Mastered by Kurt Kurasaki
KONZERTO is the reinvention of the great romantic violin concertos of the 19th century. Combining the virtuoso solo violin playing of Karen Bentley with Stuart Diamond's contemporary electronics, synthesizers and midi sequencing, KONZERTO creates a new and lyric music that simultaneously looks back to the past as well as daringly to the future.
Rigorous in its compositional structure, yet endlessly inventive, KONZERTO features both written and improvised passages for the solo violin that soar over a rich and dramatic soundscape to find a spontaneous and original musical language all its own. Symphonic in its 4-movement scope and emotional depth, KONZERTO is a fiery and passionate journey into a new musical world.
SUCCUBUS is a term that dates from the Middle Ages and refers to a demon that takes a feminine form to ravage men and women in their sleep,inducing erotic visions and nightmares. Along with its counterpart, the Incubus, these demons were thought to be the cause of the half-sleep state in which one cannot wake and feels the presence of a supernatural being.
SUCCUBUS is a six-movement tone poem for violin, soprano and electric orchestra. It is an exploration of the sensual and surrealistic dreamscapes of the Succubus. The music features the voluptuous and mysterious voice of Kerry Walsh and the sinuous violin playing of Karen Bentley entwined in a dark and erotic dance of love and desire.
REVIEWS
Part ambient, part classical, part opera - and ALL breathtaking: that's the only way to describe Stuart Diamond's latest release Konzerto/Succubus. Consisting of two multi-movement pieces - the first called "Konzerto", and the second "Succubus" - this release grabs hold of your soul from the first ominous sounds of electronic percussion to the final fadeout. Stuart Diamond, composer and programmer, has managed to create with his electronic symphony two pieces of music that evoke the same sort of emotions as do acoustically played classical arrangements. Even without the wonderful violin talents of Karen Bentley and the soprano of Kerry Walsh, Diamond would have a fantastic ambient/classical release. But being the good composer that he is, Diamond realized that those touches would elevate his music to a higher lever, and that is exactly what Bentley and Walsh do. The first composition on the CD, the 4 movement "Konzerto," is a lush arrangement of otherworldly sounding electronica with a nice range of sounds and very moving chord progressions topped off by the absolutely stunning violin playing of Karen Bentley. Bentley's traditional violin sounds very much at home with Diamond's electronic symphony, the voice of her strings interplaying expertly with the "wired" foundation that she is given."Konzerto" is a fine composition and a joy to the ears. "Succubus," the 6-movement composition that follows "Konzerto," takes a more mellow and ethereal approach by introducing the stunning vocals of soprano Kerry Walsh. The first thing that came to mind when Ms. Walsh sings her first note is that I had somehow been transported to a place the Sirens called home; her voice is downright inspiring. The echo effects that Diamond uses to augment Walsh's voice add a certain weight to the vocals that results in singing that is both frail and powerful at the same time. Karen Bentley's violin continues to be a major force throughout the composition, and the piece comes to a somber end with a long electronic fade-out that gives the listener ample time to digest what he or she has just experienced. I can't say enough good things about Konzerto/Succubus - Ms. Bentley's violin and the vocals of Ms. Walsh leave nothing to want for - they are both expertly executed. All of their efforts would have gone for naught if the songwriting of Diamond was less than top-notch, and Diamond delivers in spades providing an emotional and moving soundtrack for Bentley and Walsh's incredible talents. Konzerto/Succubus is a must-have for fans of electronic symphony, and a release that ALL music fans should at least consider giving a try.
Michael Askounes
Bentley is the soloist in Stuart Diamond's fascinating Konzerto, which the composer describes as "the reimagining of the great romantic violin concertos of the 19th century" (Electronic Artists Records EA 102A). In almost every sense a "traditional" Romantic violin concerto, the big difference in this work is that the orchestral accompaniment is electronic and features synthesizers and MIDI sequencing. This a concerto of great beauty and inventiveness. The other work on the CD is Diamond's Succubus, a six-movement tone poem for violin (Karen Bentley again), soprano (Kerry Walsh) and electronic orchestra. Both this disc and Ariel View demonstrate that a contemporary electronic sound can be married to traditional "classical" musicianship; and I wouldn't be at all surprised if they encourage your kids (or your students) to persevere with their own violin practice when nothing else inspires them. Try casually playing the music in your car on the school run, or just before the lesson starts, and see what reaction you get.
Andrew Palmer - STRINGS MAGAZINE
KONZERTO by Stuart Diamond is an incredibly dramatic, expansive work. It's a profusion of lush sound and deep passion. But its framework is intellectual, complex, with themes that recur in clever variations and with shifting meters. The percussion part amazes. It shines in its range, sometimes driving and intense, sometimes native, exotic, sometimes humorous, mischievous. The violin part is similarly remarkable --it's powerful, lyrical, delicate, soaring. Karen Bentley is a wonderful player, both technically and emotively. From start to finish, this work is a stunning achievement.
SUCCUBUS , a pairing of violin and voice with electronics, is pure eroticism. It creates a mystical, dreamlike tone, which closely resonates with the theme of a demon, in feminine form. This work swept me away as a succubus would... just as intended.
Beverly Ray Burlingame
STUART DIAMOND has composed two great works that combine the elements of live performer(s) with the midi-driven, synthesizer derived electronic orchestration. On this CD are a violin concerto and an electronic tone poem that utilize the virtuoso skills of two very talented women. KAREN BENTLEY is the brilliant violinist who projects powerful dynamic solo work in the Concerto for Violin and Electronic Orchestra. She also performs the violin part in a duo with soprano KERRY WALSH in the second work that is a tone poem for the soloists with electronic orchestration. Both performers as well as Mr. Diamond's work as Composer/Synthesist bring these compositions to life with all the integrity of seasoned artists and leave the listener wanting to hear more of this type of composition/performance.
This CD has the appeal to satisfy both Classical music listeners as well as those who enjoy the technical electronic structure that is interplayed here. KONZERTO is a four movement violin concerto that captures the style of the great 19th Century violin concertos in a neo-romantic casting that will keep the listener attuned to the work from beginning to end. In the four movements: Allegro, Moderato, Largo and Vivace, Mr. Diamond has given Karen a virtual sonic playground of great expressive themes and variations in the 1st movement to show off her multitude of fireworks on the violin. She gets to soar in lilting lines of flight in the 2nd movement. The 3rd movement lets her form a caste of contemplative sadness that touches on a memoriam of something very close and lost; a lamentation of the heart. In the final 4th movement she puts forth a powerful grouping of statements over a constant driving ostinato that has several slow interludes intervening until the last powerful full symphonic interplay has her conclude the work over the powerful ostinato. A short coda on a descending minor chord brings this work to its respectful closure. Both soloist and composer/synthesist are in top notch form for this alluring work.
SUCCUBUS is a tone poem that takes the mythological theory of a demonic creature that takes the form of a woman and portrays its fated drive to seek out the wanton sex crazed lusts of men while sleeping to deplete them of that energy as a need for its supernatural survival. Its counterpart would be an Incubus that takes the form of a man seeking that same substance in women. This six movement work is given a truly three dimensional interpretation with the duo work of KAREN BENTLEY on violin, who sets the tone for giving the demon its driving force, Soprano KERRY WALSH as the ethereal seductive soul of the demonic being, and STUART DIAMOND's pristine electronic sonic scenery in which the drama is enacted. As Karen's violin shapes the succubus and gives it movement on the various stages of its quest for human lust Kerry's voice really brings the tormented soul into full form and gives the listener the real feel of the feminine powers of seduction which the demon carries out on the unsuspecting victims who dare dream of wanton abandon.
The first movement shapes the creature out of the mists in its lair and gives it the sensuous womanly seductress that will search in the night for its victims. "Nightwings" has the demon airborne like an insect looking for the sweetest nectar. Karen's violin theme here in 3/4 time darts around to lush major 7th petals of shifting harmony with occasional resting points. In the third movement "The Kiss" Kerry's voice is so convincing as the fairy princess of your dreams coming to fulfill your wildest passions you can almost feel that she's breathing in your ears. When it's all over you have been left drained as the hapless victim. Now the violin part in the 4th movement takes on a whole different tone and the theme that was first heard in wisps of nightwings is now a hard driven 4/4 flight that is like the image of a bird of prey who carries off its victim in clutched talons. "Dreamlines" is the most amazing part of the work where the duo of violin and voice, with some very spaced reverberation, let you see the final image of the succubus as it now partakes of the captured feast to transform its being back into its supernatural hibernation. The final 6th movement slowly brings back the mists of the opening and a few themes played by the violin conclude the work.
Both works are great to listen to and I found that Succubus really got into my skin. When listening to it the 2nd time I was doing so at 3AM in bed with headsets and felt I was totally pulled into the drama; and guess what? Now that I recall all of this I find that my sense of passion has been heightened; Succubus, come get me (again... and again... and again... and...)!
William Ashley Cooper - AMAZON.COM
Stuart Diamond is an American composer involved in several projects in which he combines classical and electronic music. In this 50 minute musical voyage he is accompanied by violinist Karen Bentley and soprano singer Kerry Walsh.
Two compositions form the framework. The first is "Konzerto", a real concerto for violin and orchestra (where the latter is replaced by midi-keyboards). In this work Diamond tries to reinvigorate the magnificence of the XIX century romantic concertos. "Konzerto" is subdivided into four movements. The opening "Allegro" instills a sense of drama with Bentley's violin virtuoso flourishes against the idealized synthesized accompaniment. Continuing with a "Moderato", the second movement is characterized by great romanticism, thanks to its very soft and light melodies. The "Largo" again presents a dramatic atmosphere, thickened by the violin's melancholic lines. The final "Vivace" sustains a high pathos, with violin and electric orchestra continually exchanging continuous measures to create a truly fascinating concluding crescendo.
The other suite "Succubus" is subdivided into six parts. The opening maintains the "Konzerto" atmospheres. But when Walsh begins to sing, there is a higher state of anxiety and the music becomes more thrilling, darker and obscure, thanks to a sensuality that succeeds in recalling the medieval demon of the composition's title - a demon bent on inspiring nightmares and erotic visions.
The CD really is interesting. No rock here, but those who love interesting new sounds intermixed with great classical forms will find a lot of noteworthy tracks.
Peppe di Spirito - ARLEQUINS.NE
Peppe di Spirito - ARLEQUINS.NE